Land Use Planning
The performance spectrum of ECO-DATA includes all tasks and requirements related to land use planning done in accordance with current regulations. Integrated into the planning of ecological development concepts are the following methodologies:
Reconnaissance of natural areas, re-balancing load limits or adjusting for excess pollutants, and redevelopment based on environmental impact planning.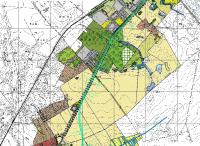 These methods allow ECO-DATA to optimise the effort exerted in nature conservation and care of the land. In particular, some methods help to determine the type and extent of necessary compensating and supplemental measures. This is determined primarily by the natural regeneration potential of the biotope and in view of the past load concentrations. Through these methods, the process of natural self-regulation is able to be included in the proposed assessment. This assessment determines which means are most appropriate in encouraging the process of regeneration. The actual self-restoring-potential of biotopes can be estimated with help of biological indication methods, e.g. by determining the degree of natural vegetation, and by ascertaining the condition of humus. At the same time, the potential for a long-term sustainable agriculture, forestry, and / or other use, is also exhibited by the regeneration capacity specific to the biotopes. The development potentials of the biotope are determined by the planned change in use.
In this manner, it becomes possible to plan and test the potential sustainable ecological use of a natural area. It becomes possible to plan and test the ecologically relevant development concepts as well. The tests are able to determine how effectively different concepts ultimately work.